Recently, after replacing the hard drive (SSD) of my iMac, and after restoring its content from Time Machine (see my post on the best backup strategy), I realized that my iCloud folders (Documents & Desktop) struggled a bit and didn't seem to sync with iCloud anymore. Some documents edited on my MacBook Pro were not up to date!
Clicking on the circular progress bar icon of the iCloud folder shows a progress bar but it does not appear to progress at all. I hope that it will be better tomorrow. But nothing helps. The next day, the bar did not move by one inch. It is true that I total 30 GB of files in iCloud and after all, after a restore from Time Machine, with a potentially older version of some files, one could wonder how iCloud can handle this. That restored Excel file from yesterday appears to have been placed on iCloud just now. What about its more recent version on the Macbook?

Let's take an example, the File.xlsx file was modified on 3/16/2021 at 4:09:23 PM on the Macbook. The Time Machine restore File.xlsx from 3/15/2021 at 9:37:43 PM, but the restore operation took place on 3/16/2021 at 5:00:00 PM. What will iCloud do? The most recent version of the file is the Macbook's version, dated 03/16/2021 at 16:09:23.
Well in my case iCloud seems a bit lost and doesn't sync anymore. Is this dilemma the cause of this hesitation? Who knows.
How to fix it?
Apple recommends, when iCloud no longer synchronizes, to close the session and reopen it after restarting the Mac. Closing the session, displays an alert: your files will be deleted from this Mac! You can keep a copy if necessary. In my case, no need for a copy, I still have my Time Machine backup and the cloud version. So I opt out and uncheck the local copy and close the session.
After restarting my computer, and reconnecting to iCloud Drive, surprise: my files are instantaneously restored to Documents and Desktop, but still not synced! Strange. I decide to try and log out of iCloud again, making sure I have unchecked the local copy option. I restart the Mac, but before reconnecting the iCloud session, I check the contents of my folders. Documents and Desktop are empty as expected, but there is a folder at the root of my account on the system drive: iCloud Drive (Archive). That's my guilty party!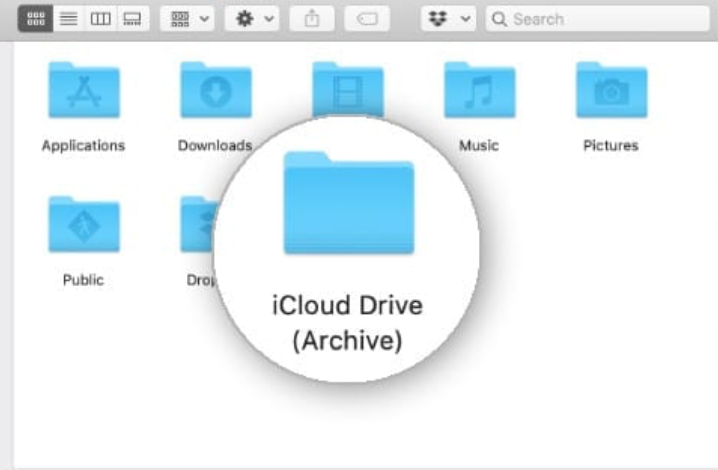 Yet I did not ask for it. So I rename this folder to "My iCloud Drive (Archive)" before I reopen the iCloud session.
This time it's okay, my Documents and Office folders are both empty…. but they remain empty! I would at least expect to see the structure of these folders appear from iCloud, but no! Let's pretend to not care and carry on with other things, while keeping an eye on my files. I create a "March 16" folder on the desktop, just to see. I open my MacBook Pro and see that this folder doesn't seem to appear there … No iCloud cloud icon on the iMac either … No syncing!
And then suddenly, without any warning, my folders fill up again from iCloud. "March 17th" folder appears on the MacBook Pro and all the other documents and folders come down from the cloud to the iMac. Phew! Syncing has resumed. My File.xlsx is dated 03/16/2021 at 4:09:23 PM, i.e. the latest version loaded in iCloud from the MacBook Pro. All OK as expected!
Conclusion
iCloud management seems to be delivering to expectations. However, Apple leaves users in the dark. A dashboard that would show the status of iCloud syncing would not be a luxury, with a button to restart it and even manage possible conflicts. Let's dream!